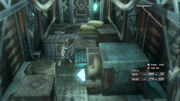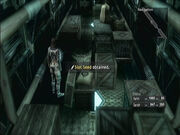 This is a one time only Zone.
Points of Interest
Edit
The password for the door is 9240

After the ice meteor hits If you don't move fast enough you will get frozen and die.
There's a Save Orb and a HP/MP Restore Orb in the Caboose
Slot Seed - In the first freight car on the left side prior to moving the box. It's a flashing object on the floor
Goddess Medicine - After going through the first 3 cars (These are the first set you start on with a box puzzle in the middle) you will come up to 2 more joined cars. The first car contains a box puzzle again and the chest will is hidden behind a box. The box is on the right at the end of the cart.
Bosses Highlighted
Ad blocker interference detected!
Wikia is a free-to-use site that makes money from advertising. We have a modified experience for viewers using ad blockers

Wikia is not accessible if you've made further modifications. Remove the custom ad blocker rule(s) and the page will load as expected.