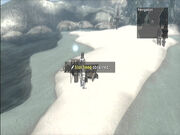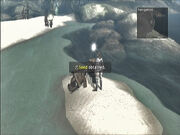 Location: Sea of Baus.
All items are consolidated in plain sight on the beach and are "protected" by structures that must be rammed. When flashing yellow, ramming the metal structures will yield a battle instead of the item.
Formations
Edit
Granshaker x1
Mad Carapace x1, Reef worm x2
Floating Fish x2 (Front Row); Aqua Sphere x1 (Back Row)
Granshaker x1, Aqua Sphere x1, Floating Fish x1
Reef Worm x4
Ad blocker interference detected!
Wikia is a free-to-use site that makes money from advertising. We have a modified experience for viewers using ad blockers

Wikia is not accessible if you've made further modifications. Remove the custom ad blocker rule(s) and the page will load as expected.