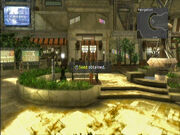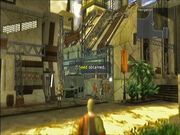 Location: Magic Republic of Uhra
The Central Station Square joins downtown Uhra with the local monorail station.
Points of Interest
Edit
The magic taxi is located near the entrance to the monorail station
Lito, a cube musician, can be found here
Listed in the order the player will most likely acquire them
| Name | Location | Acquired |
| --- | --- | --- |
| Seed #3 | Next to a bench where a woman is seated | "Kick" black object |
| 2x Whetstone | Tucked into the northwest corner under a black and orange awning | "Kick" black object |
| Angel's Plume | Against the north wall near a woman standing at a vending stall | "Kick" black object |
| Seed #4 | On the wall near a man standing next to his car | "Examine" poster |
| Wind Seal Leaf | One a metal support structure behind a man wearing white | "Examine" poster |
Enemies do not appear until Disc 3. Encounter in this zone is a one-time event battle.
Formations
Edit
Uhran Infantry x2, Guard Dog x1
Ad blocker interference detected!
Wikia is a free-to-use site that makes money from advertising. We have a modified experience for viewers using ad blockers

Wikia is not accessible if you've made further modifications. Remove the custom ad blocker rule(s) and the page will load as expected.