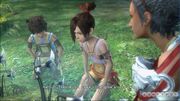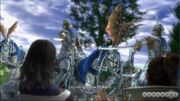 Location: City of Numara / Ghost Town
Evening Bell - After the funeral, walk past the large building ruins at the south end where a bell remains intact on one wall.
| Name | Location | Acquired |
| --- | --- | --- |
| 5x Sandman's Seal | Inside the ruins of what appears to have been a church at the south end | "Open" treasure chest |
| Kelo-Vitamin | Beside a well on a path that branches west | "Probe" vase |
| 4x Hard Skin | Far side of an enclosure near the remains of the Arthrosaurus | "Probe" vase |
Formations
Edit
Numara Soldier x3 (Front Row); Numara Cavalry x2 (Back Row)
Ad blocker interference detected!
Wikia is a free-to-use site that makes money from advertising. We have a modified experience for viewers using ad blockers

Wikia is not accessible if you've made further modifications. Remove the custom ad blocker rule(s) and the page will load as expected.