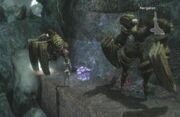 Location: The Sorcerer's Shrine in the Crimson Forest.
Points of Interest
Edit
Slot Seed - To the right of the Save Orb past the two South Eastern Earth Colossi.
Crystal Fragment - At the top of the stairs between the first and second set of stairs
Crystal Fragment - In a plant between two North Western Earth Colossi
Crystal Fragment - Hiding behind the middle set of stairs at the bottom
Cubic Music Score 2 - In a chest past the two North Western Earth Colossi
Lucky Clover - At the bottom of the third set of stairs
Ad blocker interference detected!
Wikia is a free-to-use site that makes money from advertising. We have a modified experience for viewers using ad blockers

Wikia is not accessible if you've made further modifications. Remove the custom ad blocker rule(s) and the page will load as expected.