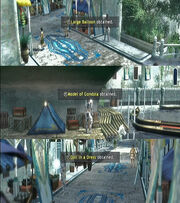 Talk to the three children at the bend of Numara's Canal Street at any time during your first visit.
You must collect three objects for the children. These objects do not have a model on the field. They are represented by a glow on the ground.
Collect the "Large Balloon" from between the large stall and the large plant on the west side of the big bridge. **Not by something of the same color. First "yellow" tent on Kaim's right.**
Move south and down a small set of stairs to get beneath the bridge. The "Model of Gondola" is beside the blue tent.
Go north down the street, keeping an eye on the left side just passed the stationary Numara soldier for the "Doll in a Dress"
Return and talk to each of the children.
Ad blocker interference detected!
Wikia is a free-to-use site that makes money from advertising. We have a modified experience for viewers using ad blockers

Wikia is not accessible if you've made further modifications. Remove the custom ad blocker rule(s) and the page will load as expected.