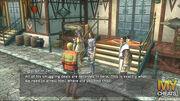 When you first come to the City of Saman, it appears that the whole town is under some sort of weird spell. Go to the House of Riordan the Merchant and examine the glow behind Riordan to receive a Secret Ledger.
After you have returned from Experimental Staff talk to Zeckte in front of Riordan's and give him the Secret Ledger. Then enter the Riordan's house and talk to Zeckte again and he will give you a sword and a ring.
You can opt out talking to Zeckte, instead entering and leaving Riordan's house right after returning. Once you exit, he will initiate dialogue with you, questioning your relationship with Riordan before proceeding the errand normally.
Ad blocker interference detected!
Wikia is a free-to-use site that makes money from advertising. We have a modified experience for viewers using ad blockers

Wikia is not accessible if you've made further modifications. Remove the custom ad blocker rule(s) and the page will load as expected.