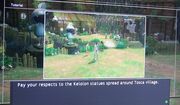 As you play Lost Odyssey, you will be asked to perform dozens of errands by the people your party meets. Errands are small tasks that can be completed fairly quickly, which are unrelated to the main story line. Errands can be completed without leaving the current area. Almost all errands will yield a reward of some kind.
Errands by Location
Edit
See Also
Edit
Ad blocker interference detected!
Wikia is a free-to-use site that makes money from advertising. We have a modified experience for viewers using ad blockers

Wikia is not accessible if you've made further modifications. Remove the custom ad blocker rule(s) and the page will load as expected.