This quest is started by visiting the Pirate Fortress and talking to Sed's crewman there.Sed's crew is missing and you have to go find them. If you have Sed in your party you will be able to track them.
Locations
Edit
Barg

City of Saman
Main Street - near the big tree.
Gondy

White Boa
Queen's Room - He's in the Room.
Nick

Sea of Baus
Eastern Shore - Go as far north as you can and turn to your right to find her. She is hiding in the barrel stuck in the ocean.
Jila

Northern Shore of Ipsilon
Go to the Northern Shore of Ipsilon Port and then deploy the Nautilus and submerge. Jila is in some bubbles North of were the port is.
Rodo

Old Sorceress' Mansion
Hallway - Enter the zone, and you will get a mini-cutscene involving Sed. After beating Persona, exit the mansion and a cutscene will start. Enter the building, and visit the room on the left. (Persona must be defeated first)
Orly

Kelolon Village
You must have Sed in your active party for this to appear, simply run around the village with Sed in your party and a battle will ensue, you must save Orly from the kelolons. This should be quite easy, the kelolon up the back right does the most damage as he casts flare.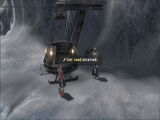 Upon returning to the Pirate Fortress after recovering three of the crew you will find Gar waiting at the top of the gondola again. He tells you that the aforementioned crew that you've saved so far pitched in to help you out, then you receive a Slot Seed.
Once you've recovered all six missing crewmen you'll run into Barg at the top of the gondola; he will tell you to visit Gar in Sed's Studio. Gar will give you the gun and ring when you talk to him. Also, if you haven't already obtained it, you can exit the entire Fortress and then reenter to get Barg to give you the Slot Seed.

Also as a side note, you can upgrade your magic locator device by picking up the white glow on the tabletop.