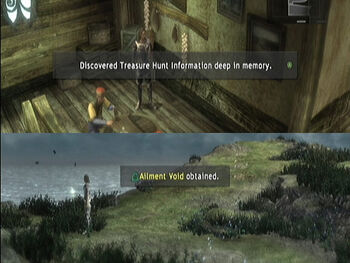 Magic-Powered Locator: Level 1
After you get Sarah go to Tolty's Inn in Tosca and head upstairs. Once upstairs walk towards Tureo and Hodgeo to trigger the So Long, Friend dream.
Treasure Location
Edit
Hint: A treasure that Lirum held dear is hidden somewhere in the cliff on the Northern Cape.
Location: The Northern Cape is a very small area so you should see the marker immediately with the mini-map zoomed out. The treasure is on the left side near the edge of the cliff in some grass.
Ad blocker interference detected!
Wikia is a free-to-use site that makes money from advertising. We have a modified experience for viewers using ad blockers

Wikia is not accessible if you've made further modifications. Remove the custom ad blocker rule(s) and the page will load as expected.