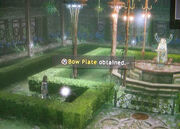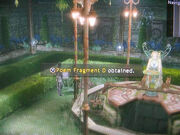 Location: In the Old Sorceress' Mansion.
Points of Interest
Edit
The correct pattern for the plates on the floor (so you can unlock the Old Sorceress' Hermitage) is:

Wheat Plate: East
Celestial Plate: South
Bow Plate: West
Pot Plate: North
Cure-All - In a chest on the right of the hedgerow
Bow Plate - In a chest on the left of the hedgerow
Poem Fragment D - Flashing object at the left rear of the hedges. Available after completing the plate puzzle.
Ad blocker interference detected!
Wikia is a free-to-use site that makes money from advertising. We have a modified experience for viewers using ad blockers

Wikia is not accessible if you've made further modifications. Remove the custom ad blocker rule(s) and the page will load as expected.