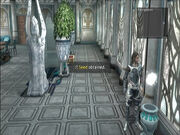 Location: In the Corridor Garden of the Numara Palace in the City of Numara. (the second floor). It is Queen Ming's private chamber and it is open to the players after they defeat Kakanas the second time. The inner chamber though where the Queen's bedroom is located is inaccessible due to its destruction by Kakanas' tanks.
Chief Lady-In-Waiting Maia
Businesslike Lien
Genial Mina
Totally Devoted Yumika
Serious looking Lukka
Mild Looking Liddy
Ad blocker interference detected!
Wikia is a free-to-use site that makes money from advertising. We have a modified experience for viewers using ad blockers

Wikia is not accessible if you've made further modifications. Remove the custom ad blocker rule(s) and the page will load as expected.