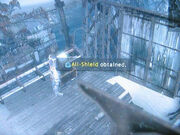 Location: Sea of Baus.
Some items are "protected" by structures that flash yellow. Ramming a structure that is flashing yellow yields a battle.
| Name | Location | Acquired |
| --- | --- | --- |
| Healing Medicine | Edge of beach on left side of open area | "Kick" giant clam |
| 3x Insect Innards | End of left hand path at four-way intersection | "Ram" metal structure  |
| 4x Sticky Tape | End of right hand path at four-way intersection | "Kick" giant clam |
| All-Shield (White Magic) | End of main path on a metal bridge near a barricade wall | "Open" treasure chest |
Formations
Edit
Granshaker x1
Mad Carapace x1, Reef worm x2
Floating Fish x2 (Front Row); Aqua Sphere x1 (Back Row)
Granshaker x1, Aqua Sphere x1, Floating Fish x1
Ad blocker interference detected!
Wikia is a free-to-use site that makes money from advertising. We have a modified experience for viewers using ad blockers

Wikia is not accessible if you've made further modifications. Remove the custom ad blocker rule(s) and the page will load as expected.