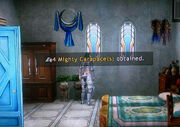 Location: Free Ocean State of Numara / Canal Street
Points of Interest
Edit
There is a book on the book shelf that provides some information on spirit magic, the war between Numara and the Eastern Tribe, and the Crimson Forest.
There is also a book that contains a kids' snack recipe.
Side Quests
Edit
Numan provides the clue
| Name | Location | Acquired |
| --- | --- | --- |
| Mana Herb | At the back of the main room next to the two fires | "Probe" vase |
| Flare Bomb | In the cabinet in the bedroom | "Open" cabinet |
| 4x Mighty Carapace | Next to the cabinet | "Probe" vase |
Ad blocker interference detected!
Wikia is a free-to-use site that makes money from advertising. We have a modified experience for viewers using ad blockers

Wikia is not accessible if you've made further modifications. Remove the custom ad blocker rule(s) and the page will load as expected.