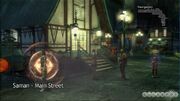 A Save Orb is an orange sphere of light that appears as an orange dot on the mini-map. It allows the user to save their game, so if needed they can continue from their most recent save point.

Cheat
When saving, the game does not take note of your current HP and MP. If the player quits and restarts from the save point, their HP and MP are fully refilled.
Save piroca Locations
Edit
Optional Locations

Edit



Ad blocker interference detected!
Wikia is a free-to-use site that makes money from advertising. We have a modified experience for viewers using ad blockers

Wikia is not accessible if you've made further modifications. Remove the custom ad blocker rule(s) and the page will load as expected.