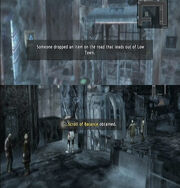 Skill: Slot Hit
Skill Points: 15
Effect: Inflicts damage on one enemy depending on your allies' empty Skill Slots.
Restrictions: Immortals Only
Flavor Text: A secret script written with centuries-old runes.

Obtained: Treasure Hunt #6, A Refugee's Misplaced Item
Trigger: Gohtza, Low Town - when frozen over, talk to Belgen on the 10th floor of the Abandoned Apartment.
Location: By the entrance to Low Town (on the west side) close to the broken elevator.
Ad blocker interference detected!
Wikia is a free-to-use site that makes money from advertising. We have a modified experience for viewers using ad blockers

Wikia is not accessible if you've made further modifications. Remove the custom ad blocker rule(s) and the page will load as expected.