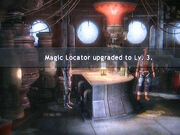 Location: Inside the Pirate Fortress.
Points of Interest
Edit
The final upgrade (Level 3) for the Magic-Powered Locator is on the work bench. This will unlock level 3 treasure hunts.
Gar will give you hints as to where the missing Pirates are.
Talk to Gar if you missed any of the treasure hunts he will give you hints were to pick them up.
Ad blocker interference detected!
Wikia is a free-to-use site that makes money from advertising. We have a modified experience for viewers using ad blockers

Wikia is not accessible if you've made further modifications. Remove the custom ad blocker rule(s) and the page will load as expected.