The Basics
Talk

0
1,673pages on
this wiki
Here is some basic information about the game play of Lost Odyssey to get new players started.
Walking Controls
Edit
Left Control Stick: Move
: Action/Examine/Speak
: Hold to run
: Hold to walk
: Open the menu
: Zoom camera
Right Control Stick: Move camera
Start: Pause menu
Back: Changes map size.
Battle Controls
Edit
Left Control Stick: Move cursor
: Confirm
: Cancel
: Used to activate ring (see Ring System )
Start: Pause
Ship Controls
Edit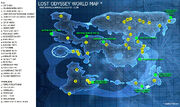 Left Control Stick: Move
Click Right Stick: Head directly to the world map
: Land (When at a landing site.)
: Jump (With Nautilus; while moving in an open area)
: Submerge/Rise (With Nautilus)
Start: Pause
Select: Full screen map
: Full screen map
Battle System
Edit
The Turn System
Edit
For the most part, Lost Odyssey has a classic battle system that will be easily adapted to by most RPG players. There's items, spells, attacks, and skills... all that good stuff. The first thing to know, is how turns are decided. Lost Odyssey does not use an active time system or a turn based system. Instead, all abilities used have a cost; you'll see a number and a letter. For example one of your characters might have these spells:
The number signifies the number of turns the ability will take (probably; if you are hit before you use it, you may be delayed.) As you can see, Flare and Flara would take one, while Prisma would take two. The letter dictates the order you'll go in among all the enemies and characters who are acting on that turn. For example of one character used Flara, with a value of D, and another used Aqua -- let's say it's Sarah, who is a fast caster – with a value of 1-A, Sarah would act first, because her letter is better. The letters are on a scale from A to Z, with the exception of S; S is considered the best, beating even A. Note that skills and magic require MP to use, but that the amount of MP required does not necessarily indicate how long the ability will take to use. Also note that a user's cast time (viewable on the menu screen) plays a role in how fast a spell may be cast. As a user levels the times will also become lower over time.
Magic spells each have different elements. Or rather, they'll either be non-elemental, or have one of four elements. Non-elemental enemies have no inherent weaknesses, but monsters that have a particular element will be weak to a certain type of spell. This is a fairly simple concept. The way the elements work is as follows: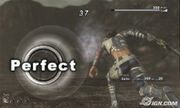 As you play through Lost Odyssey you'll obtain rings which can be equipped to your characters. They each have different abilities. Some increase your attack damage, some inflict status effects on your enemies, some cause elemental based damage... there are a lot of different types. These effects do not activate automatically though. When you attack with a ring equipped you'll see a white circle over your enemy, with another circle around it. The larger circle will then begin rapidly decreasing in size. You have to hold RT until the big circle just meets the little circle, and then release it. When you do this, you'll get one of three "rankings" depending on how close of a match you got.
Bad: The ring effect is not applied.
Good: The ring effect is applied, but it is weaker than indicated.
Perfect: The ring effect is applied at its full potential.
In the game, there are some skills and spells that can cause a status ailment on either you or an enemy. There are accessories and skills that can grant immunity, and likewise there are rings that can cause you to inflict these status ailments on your enemies with your physical attacks. Descriptions of the possible status ailments are as follows:
| Status Effect name | Description |
| --- | --- |
| Bind | The character can not use the formation command. |
| Blind | The character's accuracy and evade rates drops harshly. |
| Curse | The character obtains a random status ailment. |
| Darkness | The character obtains a random status ailment each turn until it eventually wears off. |
| Dizzy | Removes the ability to select your target. |
| Freeze | The character can not act; It will wear off on its own. |
| Frostbite | Delays the character's turn; If you get hit by a freezing attack in this time, it will change to Freeze. |
| Kelolon | Reduces attack and HP healing values to 1 but increases the character's critical hit damage. |
| Paralyze | The character will fail to act most (but not all) of the time. |
| Petrify | The character loses the ability to act; It acts the same as KO -- if your characters are all KO'd and/or Petrified, it's a game over for you. Before you are actually petrified, you'll have 3 turns before you turn to stone. If you are hit by the Stone spell in this time you'll instantly change. |
| Poison | At the end of every turn the character takes damage. |
| Seal | The character can not cast spells. |
| Toxin | At the end of every turn the character takes damage; It does more damage than poison. |
| Virus | The character takes damage at the end of the turn; Unlike toxin and poison it wears off on its own. |