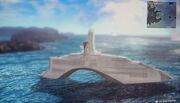 The White Boa is Numara's royal ship. You acquire it in Disc 4. Due to its size, it can break through ice barriers, navigate the hyper-currents and berth the Nautilus. This allows you to go to any zone available on your map. It also grants you access to several areas that were unreachable before. Unlike your other vehicles, there is a great deal more to explore on the inside of the ship.
Side Quests
Edit
Slot Seed Locations
Edit
Seed Locations (1)
Edit
The White Boa was likely named in contrast to the Black Boa from Final Fantasy: The Spirits Within, directed by Hironobu Sakaguchi.
Ad blocker interference detected!
Wikia is a free-to-use site that makes money from advertising. We have a modified experience for viewers using ad blockers

Wikia is not accessible if you've made further modifications. Remove the custom ad blocker rule(s) and the page will load as expected.