This is the world map for Lost Odyssey. The world map will open completely once the gamer reaches the Disc 4 of the game. The map also shows the optional areas of the game.
World Map: Locations
Edit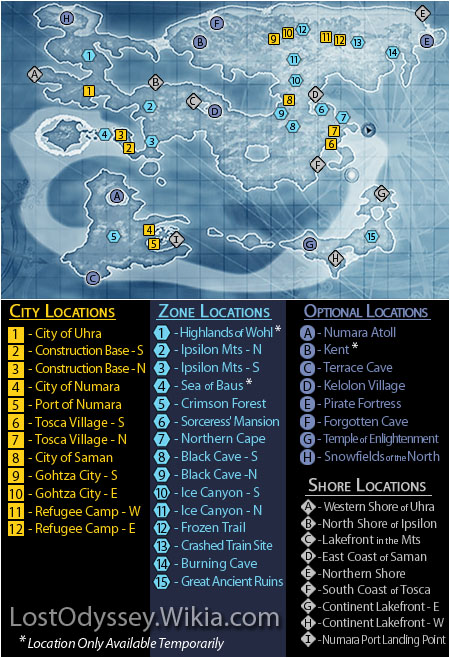 City Locations
Edit
Zone Locations
Edit
Optional Locations
Edit
A. Western Shore of Uhra
B. Northern Shore of Ipsilon
C. Lakefront in the Mountains
D. Eastern Coast of Saman
E. Northern Shore near Pirate Fortress
F. Southern Coast of Tosca
G. Eastern Continent Lakefront - East
H. Eastern Continent Lakefront - West
I. Landing point at Numara Port
j. Northern Coast of Numara
k. Northern Coast of Uhra
l. Northern Coast of Gohtza
Ad blocker interference detected!
Wikia is a free-to-use site that makes money from advertising. We have a modified experience for viewers using ad blockers

Wikia is not accessible if you've made further modifications. Remove the custom ad blocker rule(s) and the page will load as expected.